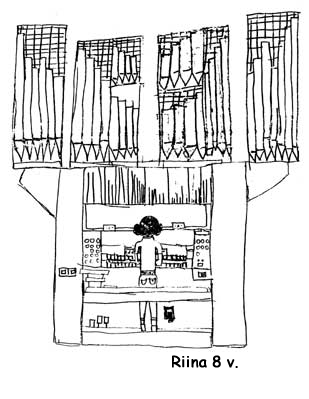 Come and meet the Queen of Instruments!
An organ is usually designed and built as a fixture for one particular space - a church or concert hall, sometimes a home or a school. As a result, organs are individuals with differing characteristics. Their differences in size are considerable, ranging from small village-church organs to the mammoth instruments of great cathedrals. All organs, however, work on the same principle: they are controlled from a keyboard, and the sound is produced by air flowing through pipes. The air stream is provided by a blower, and its course is directed by the organist. The pipes produce sound, and music is made.

Organs have been built to many technical designs over the ages. This site describes the functioning of a simple mechanical organ.
Organ structure and organ glossary (in finnish)
The organ glossary is grouped according to the main divisions of the organ and contains brief explanations of some 160 terms and parts of the instrument. Drawings illustrate the explanations and help visualize the overall structure of the organ.
Organ sound (in finnish)
Listen to samples of the rich sound world of the organ! The samples come from the Zachariassen organ in Somero Church and feature both individual stops and stop combinations.
In the organ case (in finnish)
Step inside the organ! Look around the instrument from an unusual vantage point. The Virtual Cathedral contains a panorama from the inside of the Porthan organ in Kotka Church.
Elevation gallery (in finnish)
The conspicuous and often handsome elevation of the organ is a particularly important design feature in building an organ. The design of the elevation is influenced by the structure and style of the instrument and by the architecture of its location. This collection contains pictures of organs of various ages and by various builders and designers from all around Finland.